La UTE de Villabona participa en la Conferencia internacional de salud en prisión 2009: "Prison Health Protection"
Enviado por Julio el Dom, 25/10/2009 - 11:32pm.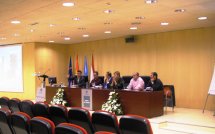 Responsables del Taller de Educación para la salud de la UTE participarán los días 29, 30 y 31 de octubre en esta conferencia internacional sobre protección de la salud en el medio penitenciario, que será inaugurada por la Ministra de Sanidad.
Official opening of the conference by:
Dr Trinidad Jiménez Garcia, Minister of Health, Spain
Mr Antonio Camacho Vizcaíno, Secretary of Estate for Security. Ministry of Home Affairs, Spain
Jose Martinez Olmos, Health General Secretary, Ministry of Health and Social Policy, Spain.
Ms Mercedes Gallizo Llamas, Secretary General of the Penitentiary Department, Spain
Dr Srdan Matic, Unit Head, WHO Regional Office for Europe
Dr Fabienne Hariga, Global Focal Point for HIV in prison settings, United Nations Office for Drugs and Crime
La partcicipación consistirá en una comunicación y en la presentación y exhibición de dos posters, uno de ellos sobre el "Taller de Educación para la salud en la UTE" y el otro sobre el DVD de educación para la salud en prisión, perteneciente al proyecto europeo "Creando espacios para el cambio" integrado en de la Acción Grundvig de la Unión Europea.
Información sobre la conferencia y el programa en:
http://www.prisonhealthconference2009.com/index.php?idpaguina=1&idioma=ang